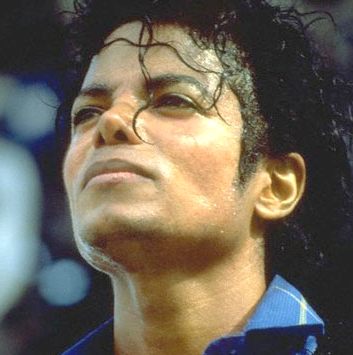 Love him or hate Michael Jackson has been a major figure in pop culture for close to 40 years. While in recent years he's become more known for his "Wacko Jacko" antics there's no denying the talent Michael Jackson posses and his contributions to music.
At the peak of his popularity Jackson's only true peers were Elvis and The Beatles. Commercially Jackson has sold over 750 million albums, with
The World's Biggest Selling Album
"Thriller" accounting for over 100 million units sold worldwide. He moonwalked and sang his way into superstardom at Motown 25, and cemented his musical legacy in 1984 winning 8 record setting Grammy's.
Jackson enjoyed major success throughout the 90s despite a career threatening child molestation allegation, but never reaching the amount of sales made by Thriller. Jackson continued to break records with his 1995 album HIStory : Past, Present, and Future. First by setting the US Billboard record for highest debuting single for "Scream" featuring sister Janet Jackson. The single debuted at the number 5 position, with his next single he would break the record he set when his single "You Are Not Alone" entered the charts at the number 1 position.
1995 saw Jackson's last full album of new material for the 90s as he spent the rest of the decade breaking attendance records on the worldwide HIStory tour. Jackson also took this time to star in the critically acclaimed "Ghosts" short film directed and produced by horror legend Stan Winston.
In 1999 Jackson returned to the studio again with a wide range of artists and producers including Brany, Sean "Diddy" Combs, Will Smith, Robin Thicke, Babyface, Rodney Jerkins, and Carlos Santana. Jackson's first single in 6 years in the US "You Rock My World" easily cracked the Billboard top 1o upon release in the US, and peaking at number 2 in the UK. The video featured Jackson and Chris Tucker in another grand Jackson piece. Jackson's "Invincible" debuted at number 1 in October of 2001 beating out competing debuts of the Backstreet Boys and Enrique Iglesias. In just two months the album had already sold over 5 million copies.
Only three single were released from "Invincible". "You Rock My World" enjoyed an increase in airplay after a remix featuring Jay-Z was released, and "Butterflies" gave Jackson another number 1 single after being released in February of 2002. "Cry" marked the end for "Invincible" and it's single as Tommy Motolla, Jackson, and Sony were unable to come to an agreement on marketing and choices for singles.
Musically Jackson's "Invincible" is one of his most unique albums, appearances by Jerkin's signed artists give the album a fresh sound not heard on radio at the time. What Jackson does well on the album are the R&B ballads. Songs like "Break Of Dawn", "Butterflies", and "Don't Walk Away" are convincing enough to make you forget that Jacko is a kid trapped in a man's body,and the dance tracks while lacking the club banger production are more than enough to get you off your feet emulating Jackson's famous spins, kicks, and moonwalks. While there are some misses on the album, running at 16 tracks long theres bound to be some filler, however in this case there's not much of it. "Invincible" by today's standards is still an amazing album by the now semi-retired King Of Pop, a throne he seeks to regain as the release of his new album approaches (sometime in the next 5 years). Whether you're Jackson's biggest fan, or Jacko's biggest cynic this is a must have album. It's not everyday that you get to see a legend fall from grace and get back up again.
Download Link
My favorite Jackson Videos
Liberian Girl (1987) From "Bad" : Just because of the amount of celeb cameos
Remember The Time (1992) From "Dangerous" : 1 of the best R&B songs and videos of all time
A Fun Parody Song
MJ Getting Down To R. Kelly