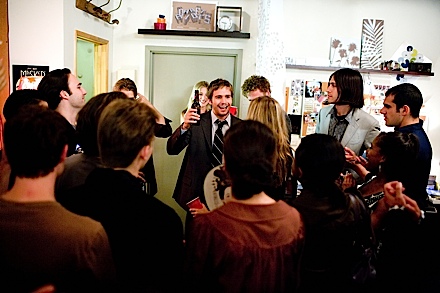 Paramount's 2008 is off to a spectacular start. The J.J. Abrams-produced Cloverfield has delivered a monster opening day of an estimated $18.25M, and it will easily coast to both the All-Time January 3-Day record and the All-Time 4-Day MLK weekend record. The Friday number is a tough call because there's no clear answer about where Paramount will add Thursday post-midnight sneak preview business. That means that there's a slightly larger margin of error in my Early Friday Estimate than usual.
There will almost certainly be a dip in business Friday-to-Saturday, maybe as much as 15%. Even with that sort of "front-loading," this $25M-budgeted internet-driven phenomenon will likely reach a staggering 3-day of $48M, easily becoming the best January opening ever. By Monday night, fueled by the MLK school holiday, Cloverfield should set a new record for the long weekend with an estimated $52M.

Paramount isn't the only studio celebrating this weekend. Fox's 27 Dresses, starring Katherine Heigl (Grey's Anatomy, Knocked Up), has far exceeded industry expectations by "walking down the aisle" with $8.65M on opening day, which should translate to a $26M 3-day and a 4-day long weekend of approximately $30.7M. That will make this tepidly-reviewed romantic comedy the all-time 7th-biggest January opening and the all-time #4 MLK weekend 4-day opening.
ALL-TIME TOP 10 MARTIN LUTHER KING 4-DAY WEEKENDS
1. Cloverfield - $52M (estimate)
2. Black Hawk Down - $33.6M
3. Along Came Polly - $32.4M
4. 27 Dresses - $30.7M (estimate)
5. Coach Carter - $29.1M
6. Save the Last Dance - $27.5M
7. Stomp the Yard - $25.8M
8. Snow Dogs - $23.7M
9. Kangaroo Jack - $21.8M
10. Racing Stripes - $18.8M
ALL-TIME TOP 10 JANUARY 3-DAY WEEKENDS
1. Cloverfield - $48M (estimate)
2. Star Wars – Special Edition - $35.9M
3. Black Hawk Down - $28.6M
4. Big Momma's House 2 - $27.73M
5. Along Came Polly - $27.72M
6. Underworld: Evolution - $26.85M
7. 27 Dresses - $26M (estimate)
8. Coach Carter - $24.18M
9. White Noise - $24.11M
10. Save the Last Dance - $23.4M
After the 2 new major releases, The Bucket List (Warner Bros) is 3rd, both for the day, with $4.08M, and, for the 4-day, with an expected $16.96M. Juno (Fox Searchlight) continues to excel during awards season. The quirky little comedy added another $3.03M on Friday. And it appears to be headed for an $11.66M 4-day, putting the Oscar-worthy film's cume at over $86M by Tuesday morning. Sony holdover First Sunday rounds out the Friday top 5 with $2.33M. The Ice Cube/Tracey Morgan comedy should reach $9.35M for the 4-day holiday weekend.
The new company Overture has disappointed with its first release Mad Money. With a cast that includes Oscar winner Diane Keaton, Oscar nominee Queen Latifah and the increasingly-creepy Katie Holmes, the caper/heist comedy managed only $2.25M on Friday, and it'll stumble to a an estimated $8.2M 4-day, only #7 for the period.